Customer Login
Registered Users - Please Login Here:
What is EDI?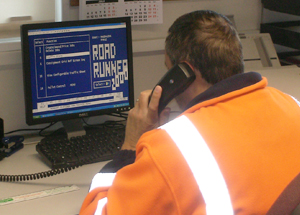 For customers who are not yet EDI registered, below is some information on the Roadrunner EDI system.
Roadrunner Internet EDI is an exciting new program which allows you to book work directly onto our Traffic system using just the Internet. This new advance in communications is of special benefit to our customers who want to minimise the time spent arranging collections and deliveries. This exciting leap in IT efficiency will allow jobs to be placed without the need to make a phone call or send a fax, from single bookings to batch postings.
This EDI button is the link required to access the server's login area. Before you are allowed to access the system, you will need to enter a secure username and password. You will then be able to swiftly place individual loads or batch-post jobs from your files directly to our Traffic System.
In this area you send your jobs to Roadrunner On Line's Internet servers, pending collection by us. The Roadrunner On Line server will then give you a server reference number for every job posted.
We automatically accept the work sent by you, this posts these jobs directly to our Traffic system and saves each individual job number. An email is then automatically sent to you with the Roadrunner job number and the original server reference number.