History of Herbert Fletcher Transport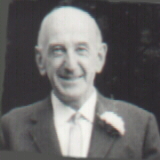 Founded by Herbert Fletcher in 1946 when he bought his first vehicle a 5-ton Morris Commercial with a specialist Silverdale body, with meat rails and sliding hooks. The vehicles were none refrigerated with just insulated bodywork.
Whilst delivering for the MTOL (Meat Transport Organisation Ltd), we came into contact with the big national meat importers from Australia, New Zealand and Argentina for delivery to wholesalers and coldstores nationwide. Refrigeration was achieved by using dry ice blocks, which worked surprisingly well.
As frozen food became popular, so the introduction of mechanical refrigeration developed and we purchased our first fridges in the late 1950's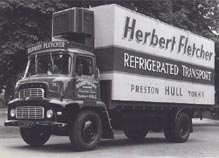 With the introduction of refrigerated vehicles Herbert Fletchers reputation and opportunities grew to carrying both fresh and frozen foods from local producers. Herbert Fletcher died in 1969, leaving the business to his two sons who formed the limited company Herbert Fletcher Transport Ltd.
We now specialise in the distribution of frozen foods from the Yorkshire region, to all areas in the U.K. mainland. All part loads are consolidated at Goole, which is geographically central to all our customers.
Colin's two sons Graham and John Fletcher are now third generation Directors of the Company.